Straight Leg Slim Cut Pants
(International shipping available)
Basic Information
Product
Straight Leg Slim Cut Pants
Product Code
P000BOSA
Price
$52.79
Description
These straight-leg pants are a basic pair you can wear anytime.
They feature a slim cut, a button and zipper closure, belt loops, and pockets.
You can opt to roll up their hems and wear them with a basic t-shirt and pointed-toe boots.

QUANTITY
Product Option
Color
Size
(Minimum Order : 1 or more / Maximum Order 0 or less)
Size Charts
Select quantity.
Product will be automatically added below when you select an option.
Product List

| Name | Quantity | Price |
| --- | --- | --- |
| Straight Leg Slim Cut Pants | | 52.79 (  ) |
Price(Quantity) : 0 (0 item)
Discounted amount of your subtotal will appear when you place your orders.
PAYMENT

SHIPPING

EXCHANGES
PAYMENT
We accept the following forms of payments:
•Credit Card
•Visa
•MasterCard
•American Express
•Discover
•UnionPay
•JCB
•PayPal

Deals
Straight Leg Slim Cut Pants
These straight-leg pants are a basic pair you can wear anytime.
They feature a slim cut, a button and zipper closure,
belt loops, and pockets.
You can opt to roll up their hems
and wear them with a basic t-shirt and pointed-toe boots.

Items not under Related Items are not for sale.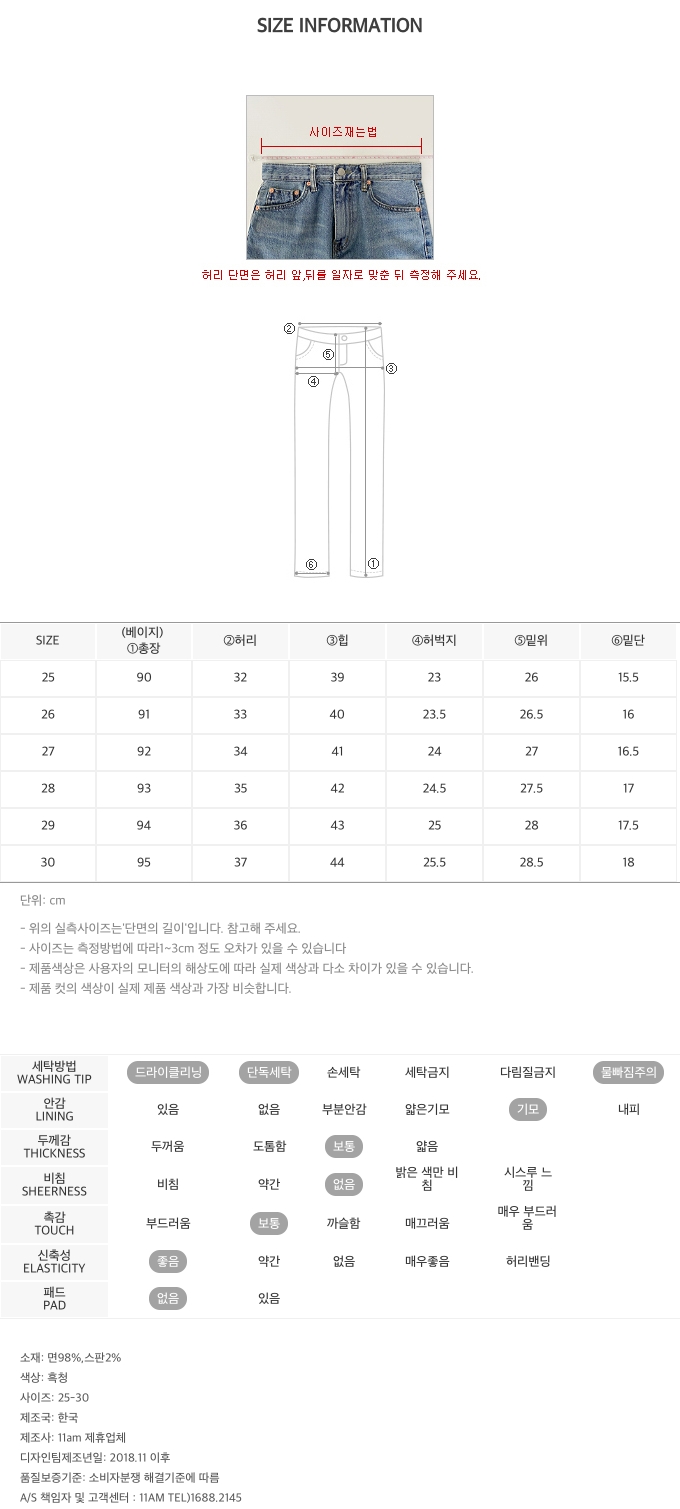 Product Details
About Modeled Item
Black Denim / 26
Material
98% Cotton, 2% Spandex
More Details
No Lining / Average Thickness / Non-Sheer / Regular Texture / Stretchy / No Pads
Laundry Guide
Dry Clean / Wash Separately / Color May Transfer
Product Info
Country of Manufacture: South Korea / Manufacturer: 11AM Partner Company / Manufacture Date: Nov. 2018
Note
* The size may differ by 1~3cm depending on measurement methods.
* The color displayed may vary depending on your screen.
Measurement
Size
Total Length
Waist Width
Hip Width
Thigh Width
Front Rise
Hem Width
25
90cm /
35.4in
32cm /
12.6in
39cm /
15.4in
23cm /
9.1in
26cm /
10.2in
15.5cm /
6.1in
26
91cm /
35.8in
33cm /
13.0in
40cm /
15.7in
23.5cm /
9.3in
26.5cm /
10.4in
16cm /
6.3in
27
92cm /
36.2in
34cm /
13.4in
41cm /
16.1in
24cm /
9.4in
27cm /
10.6in
16.5cm /
6.5in
28
93cm /
36.6in
35cm /
13.8in
42cm /
16.5in
24.5cm /
9.6in
27.5cm /
10.8in
17cm /
6.7in
29
94cm /
37.0in
36cm /
14.2in
43cm /
16.9in
25cm /
9.8in
28cm /
11.0in
17.5cm /
6.9in
30
95cm /
37.4in
37cm /
14.6in
44cm /
17.3in
25.5cm /
10.0in
28.5cm /
11.2in
18cm /
7.1in
# Reviews
There are no posts to show
# Submit Inquiry
There are no posts to show